Holistic Nutrition Consulting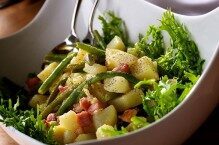 Holistic Nutrition refers to the integration of the body, mind & spirit.
Om in your Home is able to help you manage your health through diet and lifestyle changes. We will help you set your personal nutritional goals and then will work with you to attain those goals.
Experiencing good nutrition and the positive effects on your health and well-being is what a personalized wellness program can do for you. We will help you take an in-depth look at your eating patterns, nutritional needs, health concerns, daily stressors, and relaxation techniques.
We first assess your daily habits by having you fill out an assessment form tracking your food intake, daily activity, and ways that you release stress. Then we work with you to establish a wellness program that will work for you specifically based on your age, gender, physical fitness level, and food preferences. Because we take a holistic approach, your personal plan will include the integration of the body, mind, and spirit and will support you on your path to a happier and healthier life.
The initial 20-minute consultation is free. To start your personalized path to a happier and healthier life, please contact Jasmin Cromwell, NC, ERYT-200 at  [email protected]