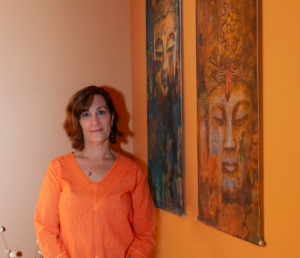 Practicing yoga in a chair offers students with limited mobility the opportunity to experience the benefits of yoga. As more and more chair yoga classes are popping up, we as teachers have the opportunity to share this practice with a population that could benefit from it greatly including senior citizens, students with MS, Parkinson's, Alzheimer's, and Dementia.
This training with Jasmin Cromwell will offer you the tools to help students build strength, balance, increase flexibility, and stamina. This training is designed for yoga teachers as well as activity directors who would like to teach chair yoga safely.
In this training, you will also learn how to teach students who can go beyond the chair, but do not have the mobility to go onto the yoga mat.You will learn how to use props, including the chair, in standing and seated sessions. This training will help you to add a new dimension to your current business and this Certification will help you to have the foundation and confidence to teach Chair Yoga
You will be trained on how to…
– Teach a safe and transformative Chair Yoga Class
– Teach a safe and transformative Yoga Class standing (with use of a chair) – – Use pranayama, meditation, visualization, and relaxation techniques for
your students
– Help to market yourself in this population
– Learn the props to use (and how to use them) in a Chair
All participants will receive a Certificate of Completion (RYT-200 or more will also receive 4 CEUs recognized by Yoga Alliance).
Join us for our next virtual training on the Zoom platform on Saturday, November 7th, from 10:00 a.m to – 2:00 p.m.The cost is $100. Please register in advance here to save your space.