It's fall and that means it is time for World Vegetarian Day and Vegetarian Awareness Month! Monday, October 1st is World Vegetarian Day. If you could go meatless for this one day, along with lots of other people, it would be very meaningful to the life of many animals. It may help you to create a new habit with this one day of awareness. It could end up saving (or prolonging) your life. It would be a better thing overall for the planet. You may find you really LIKE vegetables!
So to get started…. check out this link www.worldvegetarianday.org
Come to our FREE discussion group on Sunday, October 7th from 4:30 – 6:00 p.m. at The Bodhi Seed Yoga and Wellness Studio in downtown Mt. Clemens. We will have lots of information and even have you sampling some yummy side dishes that'll make you wanna go VEG!. Although this is a free event, monetary donations will be accepted and given to the Soup Kitchen at Grace Episcopal Church in downtown Mt. Clemens.
For great recipes and ideas on how to eat veg everyday and make meals in a hurry, check out www.vegetariantimes.com/recipes
Go to this link online to make a pledge to go vegetarian and you can win prizes!!!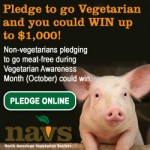 http://worldvegetarianday.org/pledge-vegwin/index.html
GO VEG!!! Your animal friends will thank you!